In our Thursday Thought Leader series, we love to feature industry leaders who are at the top of what they do, but when they're also a founding member of an innovative and unique concept, we're even more intrigued.
Pamela Pettus is the CEO and co-founder of The Gavel, which she describes as a "nationwide network of vetted attorneys — vetted by industry professionals for industry professionals". She's leading the pack in a niche area that is stereotypically complicated but she has gone in and completely simplified the process.
Pamela graduated from Boston University with a degree in Business and Psychology and a law degree from Emory University of Law. She joined the insurance industry as a specialty claims professional at State Farm and later grew into large-scale positions, including her most recent role as Director of Claims and Insurance Litigation at BFC Financial Corporation.
From there, Pamela combined her two specialty backgrounds into one incredible new company and her story will make you realize that with a kind heart and a clear vision, anything is possible.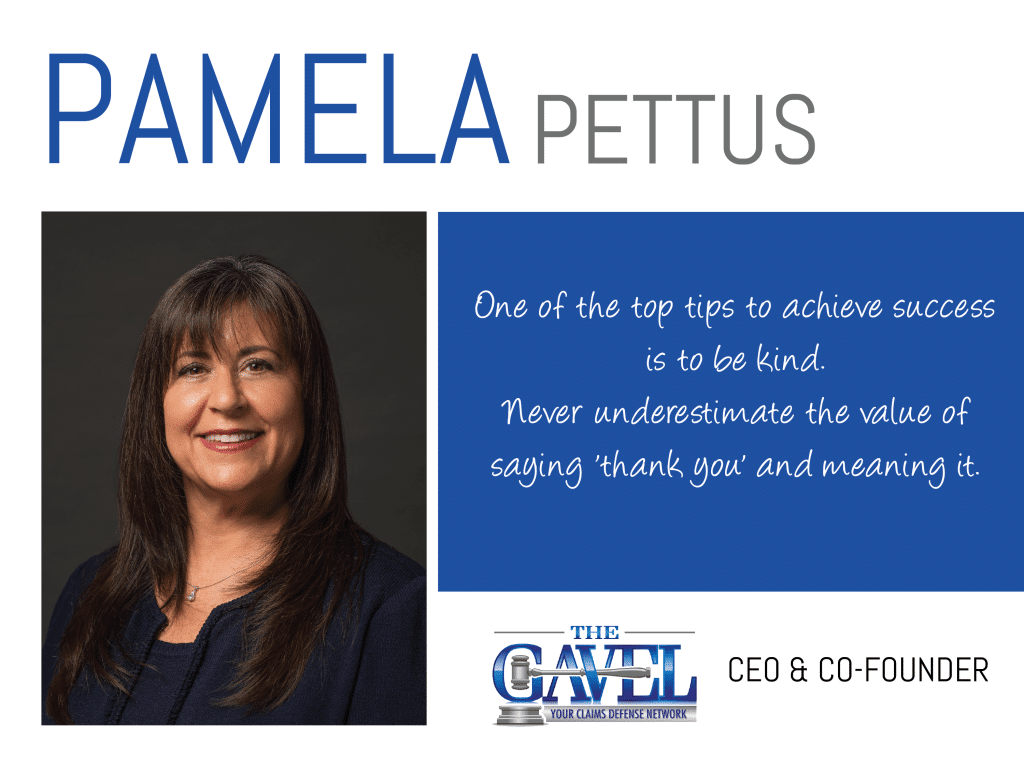 How did you know that you wanted to enter the Litigation Management industry? What was that journey like?
It was a natural progression from my upbringing in a family of well-insured entrepreneurs and my legal training in the courtroom to enter the Litigation Management industry – the space between insurance and the law. I am fascinated by the language inside an insurance policy that may or may not deliver on its promise for coverage. I am a very literal thinker and communicator, so I was comfortable advocating for coverage by focusing on the written word.
Now, I advocate for my former colleagues and friends to streamline the efficiency of the claims process. Everything in The Gavel starts with a referral from an industry professional. We determine whether the prospective member satisfies all 9 of our proprietary, critical criteria; then, we conduct a personal interview of the candidate. If we are a match, we conduct anonymous interviews with additional industry professionals to obtain an accurate profile of the candidate.
The law firm or specialist may be invited to join the network if the feedback is exceptional. The Gavel is a single portal to access some of the best litigators and support professionals in the insurance defense industry.
After spending a large part of your career in claims management, what was the "aha" moment that let you to create The Gavel – your claims defense network?
Attorney Dan Santaniello, managing partner of our Florida law firm (www.insurancedefense.net) is the mastermind behind the network. He had been developing and perfecting his ideas for a while. I just brought a little twist to his concepts by suggesting we focus on the clients – the industry professionals who need, and deserve, easy access to legitimate litigators.
His idea to develop a nationwide network provided an opportunity for me to make a difference: "A-ha! I may be able to help the claims professional who is stuck in an office for hours making endless phone calls to identify a decent-enough lawyer from the requisite panel counsel list."
Santaniello and I had an "a-ha" moment when we realized we could work together. His desire to grow his law firm and help other similar firms to grow blended with my desire to help streamline the claims process for industry professionals. And thus, we launched The Gavel to introduce industry professionals to vetted attorneys and specialists through our website (www.TheGavel.net) and through face-to-face meetings at our events and annual conference.
What has been the biggest learning lesson in managing your own company?
The biggest lesson I learned from managing The Gavel is that it is ok for me not to have all the answers. I have always said, 'I don't know what I don't know,' but it is encouraging when I ask for help – and receive it! People are incredibly generous with their time and knowledge.
After holding so many prestigious roles, what are your top tips for success?
One of the top tips to achieve success is to be kind. I believe everyone is trying to get a job done, some people just may be able to try harder than others. Another tip to achieve success is never to underestimate the value of saying 'thank you' and meaning it.
Truly, there is no super-secret formula to achieve success. Litigation Management challenged my intellect and my patience. I believe The Gavel will be a tool for industry professionals to improve their efficiency and effectiveness so that they may find their path to success.
We can find professionals across all industries with great ideas but they are reluctant to take the risk and jump out on their own. What would you tell these people if you had the chance?
It is easy to have a great idea. It is a completely different world to move that idea out of your head and into reality. In my experience, any professional can take the risk if they are ready to be fearless and focused. There is no room for fear or distraction during the endless, and often sleepless, hours of brainstorming, researching, analyzing, dissecting, and implementing an idea.
The goal of The Gavel is to streamline the work for claims and risk professionals who need to identify exceptional defense attorneys. The Gavel introduces its members to industry professionals at its Appreciation Dinners and conferences. Learn more here.