Penni Nelson is a risk management hero, with an inspirational yet relatable career journey that reminds us all: persistence is key.
Today, Penni is the Director of Risk Management at Hillwood Development Group and the fearless President of the Dallas-Fortworth (DFW) RIMS Chapter. Her journey started as a receptionist at an insurance agency and flourished into her current role, where risk management is not seen as just another department at her company – it is seen as an essential and key part of decision making and forecasting.
We have had the pleasure of connecting with Penni during many RIMS Chapter events and as this year closes out, we hope you carry at least one of her many nuggets of wisdom into your 2020 adventure.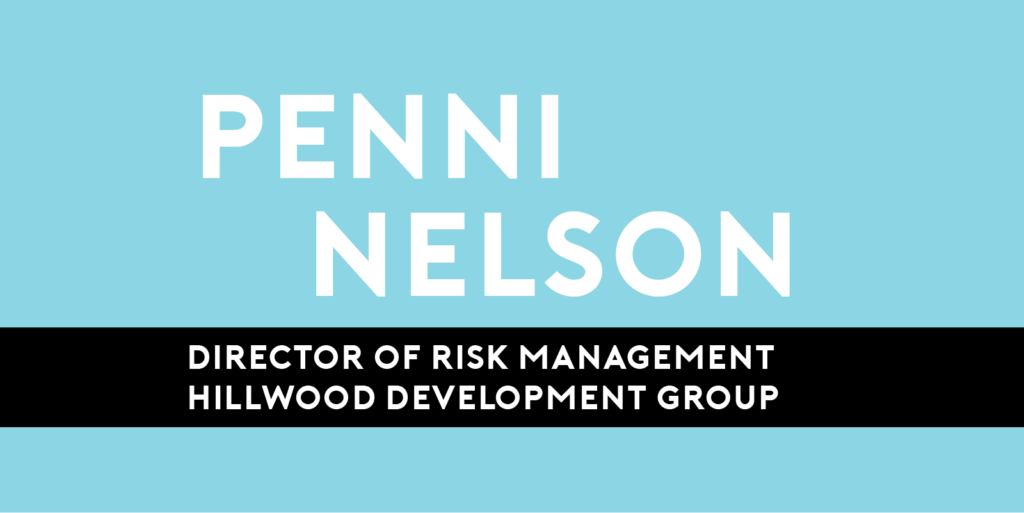 1. You graduated from Texas A&M with a degree in biomedical science. How did you end up as the Director of Risk Management at Hillwood Development Group and President of DFW RIMS? Tell us more about that journey.
I started my career like many others in this great industry…a little by chance and a lot by luck! I began as a receptionist for a small insurance agency in Deep Ellum and basically worked my way up through the ranks of independent agencies. Once I got to the producer role, I realized that the "eat what you kill" commission model was not a strength that I possessed. I decided to try my hand at risk management at the corporate level and found my way to a risk analyst position with Behringer Harvard. That is also where I discovered a great group of colleagues and peer network at DFW RIMS. Over the course of a few years I found my way to Hillwood and began assembling a formal risk management department. Today, the risk management department overseas the risk transfer mechanisms for all of our business units including real estate, aviation, oil & gas, and land & cattle. Our owner and founder, Ross Perot Jr., has created a great network of management executives who are dedicated to developing leaders amongst the ranks, if you will. With a leadership team that has your back, it wasn't hard to give my time, resources, and energy to one of the greatest local organizations in the Metroplex, DFW RIMS!
2. What was the most challenging part of your journey in getting where you are today? What was the most rewarding thing about toughing out those hard moments?
I think one of the most challenging parts of my journey has been finding a way to educate the C-Suite about the value of the risk management role. Traditionally, the risk management position has been the purchaser of insurance products in lieu of a recommender of risk financing techniques. It took years of strategy, communication, and being my own department champion, but those days have finally paid off. Hillwood's risk management department is an integral part of many decisions that are made for the future of our company. That's absolutely the most rewarding thing that has come out of toughing out the hard moments…the value that gets created for not only my department, but also others. Think about the domino effect that gets created when an employee takes on a new venture and they have had good interaction with a valued risk management department…now, that's the ultimate paying it forward for my colleagues in the industry!
3. What do you love about risk management and where do you see the industry heading in the next decade?
I love the people in risk management! Their interactions with different departments within their own industries make for the best stories and strategies. And it's from those stories and strategies that we learn from and hope to see behavior changes in the future. As for the next decade, I think our industry is in for some serious changes. With the advent of new technologies and legislation, I think the industry is going to have to shift focus to keep up. I'm not exactly sure how we as an industry are going to do it, but we won't have a choice. Now, I'm not saying that the premise of what we do will change, but how we do it and why we do it will be where change has to take place.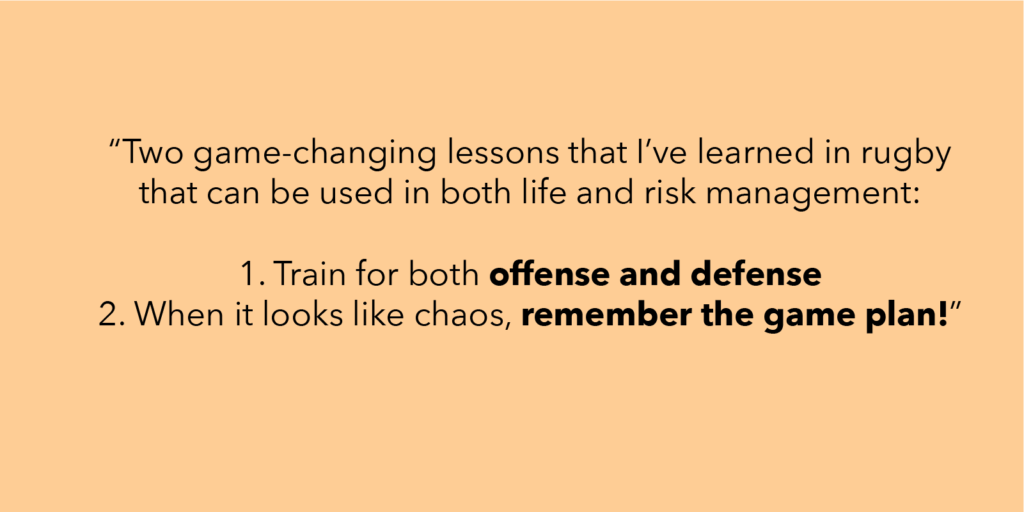 4. What is your biggest piece of advice for someone who was in your shoes when you first started?
My biggest piece of advice is to network, network, and network some more. Our industry is large but small and relationships DO matter! Not only will that network help you get your claim check faster, but it might help you find the next job. You never know where life will take you and you can certainly say that for this industry as well. You really do have to have the "Six Degrees of Kevin Bacon" mentality in this industry!
5. You are also an avid rugby player! What parallels do you find between rugby and risk management? Do you have any game-changing lessons that you've discovered?
I would say that rugby is analogous to life, as well as risk management. We are all in this as a team, whether that is your family in life or your carrier/broker team. Rugby is a long and exhausting game, eighty minutes to be exact without stoppage except for a penalty. You and your teammates are on offense and defense at any given moment and when a penalty is called, you have to reset and be strategic in the next play. Isn't life about being on offense and defense at any given moment, and then you need a reset. Rugby is also a game of tackles. Everyone has seen the one crushing tackles on Youtube but it's not the tackle itself that hurts, it's the falling to the ground that hurts the most…and then you have to pick yourself up off the ground and get back in the game. Now, if that doesn't parallel to life, I don't know what else would! Two game-changing lessons that I've learned in rugby that can be used in both life and risk management: 1) train for both offense and defense and 2) when it looks like chaos, remember the game plan!