In the insurance and risk management industry, one of the most influential people on social media is without a doubt, Jonathan Mast, Director of Social Media at Sedgwick. We were new to Twitter last year and when we finally joined, finding Jonathan was a no-brainer. He is a master at the social game and his knowledge seems to extend beyond hashtags and tagging people. The secret isn't about showcasing your typing and trending abilities – it's about making a true and genuine connection with your peers and colleagues. Yes, social media can be a scary place with so many buttons and lingo, but at the bottom of it all, it's a place to expand your network and if you do it correctly, it can be one heck of a professional "how we met story" for the books.
We were lucky enough to chat with this networking pro and find out what drew him into the industry and what continues to keep him there. You'll find that his tips may be the one thing that tips your social tactics over the edge – in a good way, of course. Now, what should Jonathan's personal hashtag be? #BlastFromTheMast?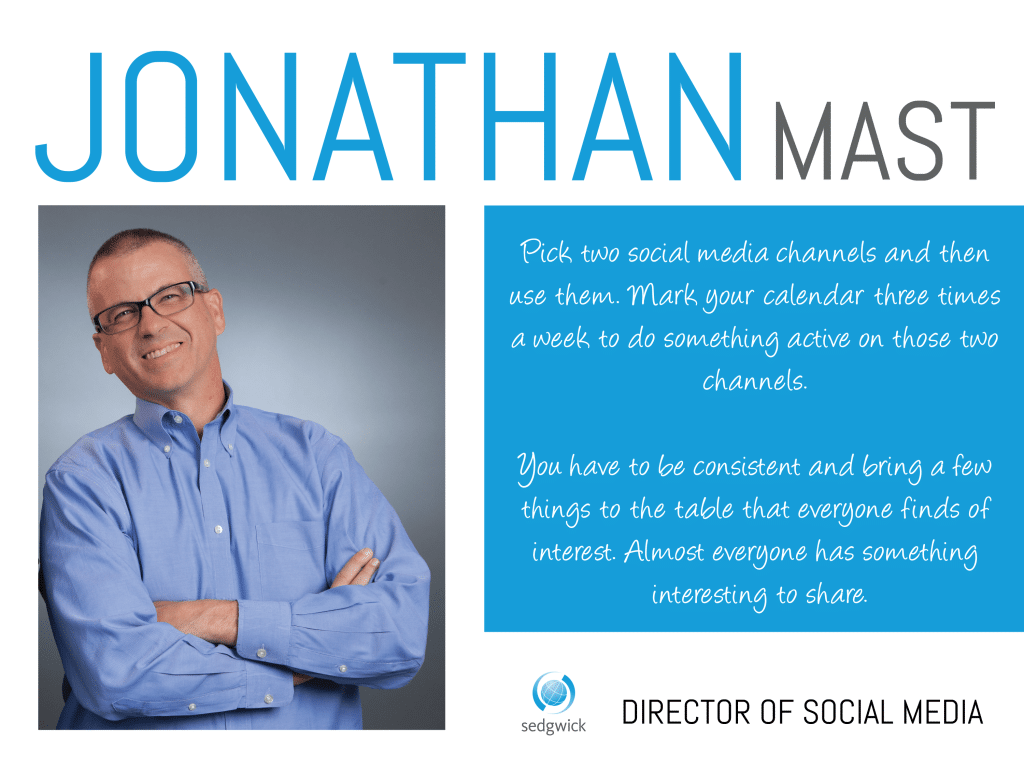 How did you get to where you are today career-wise? How did you know that this is where you belonged?
I always believe that eventually, your career will find you. The economic downturn of 2008 actually led to my career as a social media strategist. I had just taken a job with a global engineering firm to help implement the new global portal migration. The budget was slashed and our new head of marketing saw that I had done podcasts since 2005, so he suggested I go to this social media conference. On the flight home, I begin to write up a plan for how we could use social tools for recruiting. As they say, the rest is history. I am blessed that Sedgwick asked me to come back four years ago and lead our entry into using social media strategically.
I just knew it was what I should do as I have always been social. I love connecting and meeting new people and learning the latest cool tools and technology. While skeptics called it a passing fad in 2009, all this new technology just clicked for me. I am enjoying the eight-year fad so far!
As someone who has been involved in PR and Marketing for most of your career, how have you seen the communication space change over time? What do you think of the progression?
This may seem counter-intuitive, but I don't think things have changed for PR marketing and communications. What's changed is just the ways we deliver them. As a practitioner in this space, we still have to produce compelling content and understand how it helps our organization reach the end all objective. It is exciting to get instant feedback on the message and it gives us the ability to change or adapt almost instantly. The one thing that has changed is traditional media and the need for a company to rely on payment if they want to tell their story. If you are good at what you do, you have the ability to deliver your message exactly how you want, when you want, and to who you want.
What tips do you have for our industry to move towards developing social presence, relatability, and top-notch communication?
We are making slow steps in our industry to embrace a strong social presence. If you attend a technology conference, you will find hundreds and thousands of hashtag tweets. Even at our biggest industry events, the volume is still low. It is getting better and we are seeing some great people in the industry helping us move forward.
My one tip that I share at every speaking engagement or with every person I coach is to preferably pick two channels and then use them. Mark your calendar three times a week to do something active on those two channels. I get paid to be on everything and learn how they work. That doesn't work for everyone.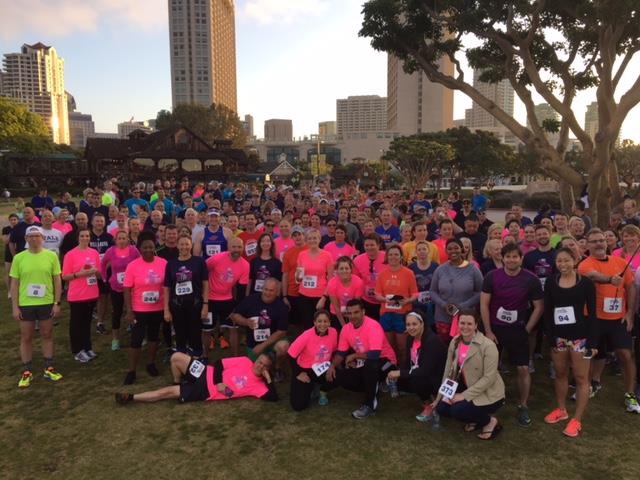 You have to be consistent and bring a few things to the table that everyone finds of interest. Almost everyone has a new perspective or something interesting to share. If you start something and in a few weeks you have not updated or participated, people will leave. Once this happens, it is very hard to bring them back to you or your brand.
You've done a lot in your career. What's one ideology that you attribute to your success?
Never be afraid to be the first one to raise your hand and jump out of the plane. I still remember very early in my career when I worked for the computer company EDS, my co-worker and I were tasked with taking almost 1,000 pages of typed documents and updating it. The idea of getting them all retyped seemed horrifying so we convinced our manager to use this advanced piece of technology called a digital OCS scanner, which was capable of a whopping 10 pages per minute! The success rate was about 70 percent which meant we only had to manually fix 300 pages. We thought we were quite smart and well, it was cool in 1992. The point is we researched and secured buy-in and took a chance when others were saying it wouldn't work.
Besides being a Twitter guru, what else would you consider yourself a guru of?
I shy away from term guru, but I just like to be considered a social media professional who uses the tools as part of the marketing and PR strategy. I have a presence on almost every channel and navigate them all with some degree of proficiency. I love the video aspect of the job and interviewing people and trying to get the best story out. My one outside topic I can talk for hours about is running. I do ultramarathons/adventure races and usually finish almost last, but I enjoy sharing knowledge with new runners.
Follow more of Jonathan's adventures on Twitter!