We think Jon Wroten won the career lottery. At first glance, it looks like he's just one of the regular faces at industry events, making sure he lives up to his title as Senior Vice President of Regulatory Compliance and Quality at Sedgwick. Not too bad of a life, right? That's already a win. What you may not know is that he had a life before joining the insurance industry. He was once a deputy sheriff, then spent 18 years as President and CEO of a 1,200 person company, and finally topped it off as the Chief of the California Office of Self Insurance Plans. Then, only then, did he end up in the incredible role he's in now.
It's inspiring to see someone not only be okay with all of the change but embrace it fully and graciously. Life doesn't always go according to plan, and Jon is a perfect example of how to play by your strengths and roll with the punches. In this week's eye-opening feature, we learn how change isn't a bad thing – in fact, it could be the best thing that ever happened. Just ask Jon.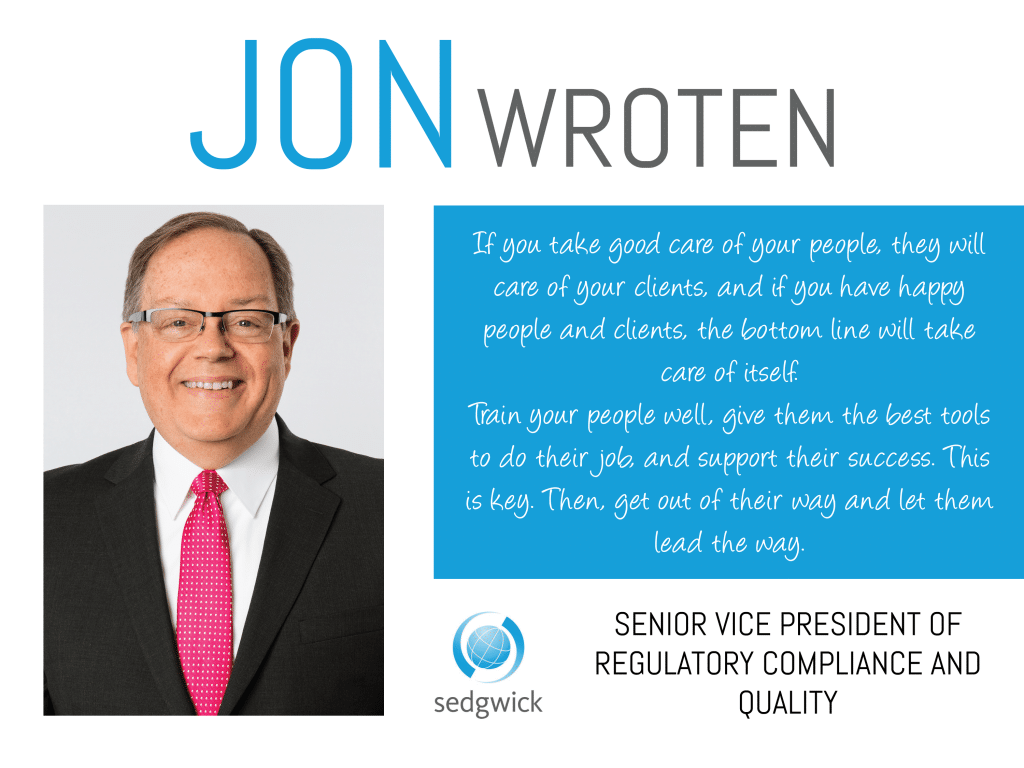 What is one moment that you would consider "life-changing" in terms of your career? If this one thing did not happen, you would have never ended up where you are now.
I began my career as a deputy sheriff. After a few years, the opportunity presented itself to go into business and start a company. Both my mom and dad had owned small businesses and I guess entrepreneurship was in my blood. I jumped at the opportunity and struck out on my own. Over the next 18 years, the company grew from just me to a 1,200 person professional services organization operating nationally. The company was twice recognized on INC. Magazine's list of the 500 Fastest Growing Private Companies in America.
In 1999 during the dot.com crash, we lost a major investor and the company became one of the hundreds of casualties that year. This event caused me to ask, 'what next'? My kids were at an age where I wanted to have more free time to spend with them.  So I was looking for a position without the demands of owning and operating a business of that scale which consumed every waking moment.
At this same time, I found an opportunity to return to law enforcement investigating campaign finance and political corruption for the State of California. After five years, I moved to another agency allowing me to work undercover investigating white collar financial crimes (state-level Bernie Madoffs). I was then given the opportunity to join the Department Industrial Relations as a senior manager responsible for operations of Cal OSHA, the workplace safety and health regulator. Two years later, I was tapped to become Chief of the California Office of Self Insurance Plans overseeing and regulating California's $22 billion self-insured workers' compensation marketplace. After five years in this role, I decided to retire from state service at the end of 2015.
I joined Sedgwick beginning in 2016 in my current role as Senior Vice President of Regulatory Compliance and Quality. I guess this is a long answer, but everything I've done has prepared me for the next step in my career and I've grown and evolved into who I am and what I do today.
You've held incredible roles at large and influential companies. How did you do it and what was your motivation?
Everything I've done has built on and been the result of prior experiences. I always strived to remain open to possibilities and opportunities. You never know when an amazing opportunity will present itself. However, many people have blinders on to these opportunities or 'forks in the road'.  Most people resist change and fight hard to maintain the status quo and are content continuing down their predetermined path without ever considering what could be. This natural resistance to change gave rise to the best-selling book, Who Moved My Cheese. Change is the only constant in business.
Embracing possibilities and change has presented me with tremendous benefits in all areas of my life. From a career standpoint, there is no way I could have ever plotted my path. For example, I had the incredible opportunity to serve on the Board of Directors, and ultimately as the Chairman of the Board of the Safety Center of California for a number of years. At that time I owned a business and could not have foreseen that someday I would be competing for a senior leadership role with Cal OSHA. My experience as Chairman of the Board of the Safety Center was a unique plus on my resume.
As for motivation, I've always found personal reward and value in contributing and feeling I've made a difference in meaningful ways. One of the cultural elements of Sedgwick that I value most is our 'Caring Counts' philosophy which is so critical and makes a difference every day in the people whose lives we touch.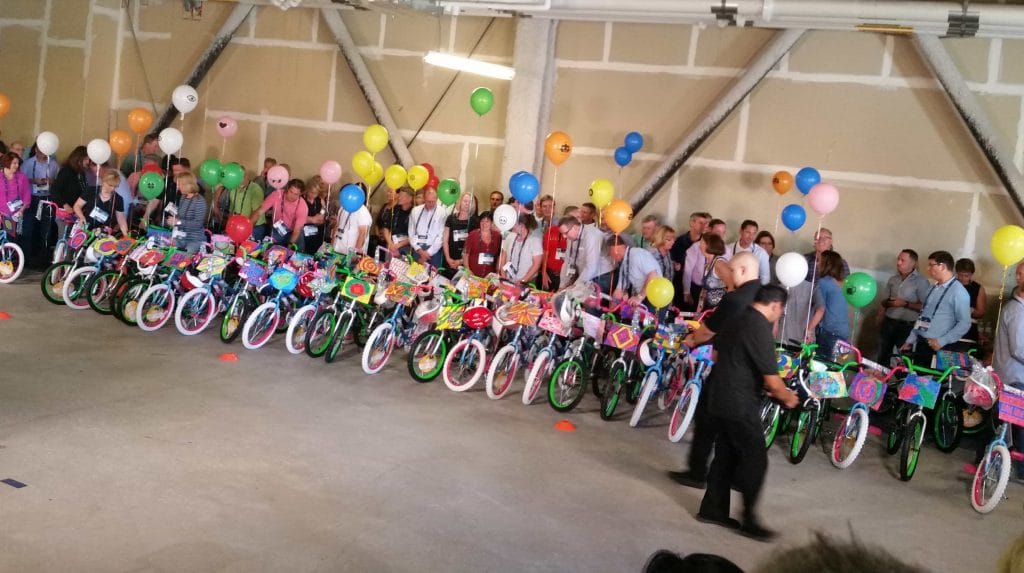 Although these companies were in similar industries, the culture and environment differed. What was your philosophy in company culture and how did you implement it?
In my company, I always believed that your people mattered most. If you take good care of your people, they will care of your clients, and if you have happy people and clients, the bottom line will take care of itself. Train your people well, give them the best tools to do their job, and support their success. This is key. Then, get out of their way and let them lead the way.
I've been very fortunate to always work for excellent organizations, work with outstanding people, and to believe and commit to the purpose and value of what we do.  There is no greater reward at the end of the day than to feel you have made a difference.
Being in several managerial positions, what have you learned about management and inspiring employees to reach their fullest potential? What is one common theme that prevents people from not working passionately and fully?
I discovered early that when I was engaged and felt valued, I was willing to climb mountains and fight the hard fight for my manager. I also spent 15 years as an adjunct professor teaching management and entrepreneurship to young adult learners who have fresh ideas about the world and how to get things done. Many times I felt I learned more from them than they from me.
These two experiences have shaped my leadership and management style. I have always tried to listen to people and understand their ideas, goals, and concerns. By truly listening and encouraging people to think big and strive for excellence, this helps to engage them in their work which is no longer 'just a job'.
I have also found it critically important that people always understand the 'Why'. When you have a task to tackle, people work harder and perform better when they understand how the task fits in with the bigger picture, and why it is important. This also serves as a check to me, if I can't explain the why, or the why doesn't make sense to me, then we need to regroup and rethink if we should even be doing the task in the first place.
What is your favorite thing to do outside of work that keeps you sane?
There are many things I enjoy. I am incredibly proud of my kids who have grown to be amazing individuals, and also my grandkids, so anything involving spending time with family. I also am very passionate about travel, photography and learning new things. I have a special interest in people, culture, and history.