Known as the most interesting man in insurance, Rob Galbraith is the Director of Innovation at AF Group and the author of The End of Insurance As We Know It. He has a natural love for understanding all things insurance and upon learning more about him, we can attest that he really is the most interesting man in insurance!
We got the opportunity to ask him a little more about how he knew he was made for this industry and the details on his unconventional way of writing his book. If you were looking for one go-to thought leader in the insurance space, we guarantee you'll love what Rob has to say!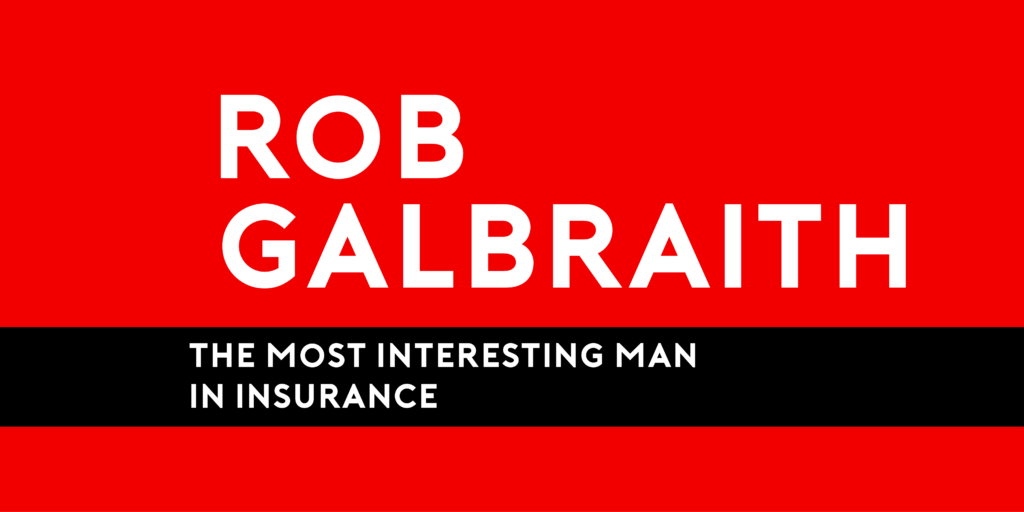 You have an extensive history working in underwriting and insurance. How did you get started? When did you know this was an industry you wanted to be part of?
As a child, I was fascinated with the magic of commerce at an early age. I remember going to the supermarket with my mom at age 2 and loving the trip in the shopping cart going up and down the aisles, grabbing yummy food and other essentials. When we got to the checkout, I was amazed that for mere pieces of green paper and a few metal coins, we were able to take all of that stuff home! So I always knew I wanted to be in business and I chose to be an economics major in college at Michigan State.
Early in my career, I was lucky enough to work in the banking and then investment sector before starting my career in insurance. For the first 5 years in insurance, I really did not like it much and kept thinking I should go back to banking or finance. But over time, as I studied to earn my CPCU and other industry designations, I came to realize that insurance is WAY more interesting! I also love that insurance is fundamentally about helping people in their greatest time of need to put them back on their feet, rather than simply about making a profit.
What was the inspiration for your book, "The End of Insurance As We Know It"? What was the writing process like?
Funnily enough, I didn't start out to write a book at all! In my role as the Director of Underwriting Research while I was at USAA, I was fortunate enough to meeting many startup founders, technologists and venture capital investors starting in 2015 as I was looking to gain a competitive edge. Over the course of 3 years, I had many introductory meetings for an hour that I left the room thinking "How cool is that? I just got a glimpse of the future of insurance!" This feeling kept happening over and over, so to help process my thoughts I started jotting down notes over the course of a few months in a Word document I called "Brain Dump". After this got to be 25 pages single-spaced with no formatting or structure, I knew I had enough content to write a book.
The actual writing process took about a year. After my initial stream of consciousness thoughts, I spent 3 months creating a VERY detailed outline that ended up being 60 pages long! Then I spent about 6 months filling in the details, following a project plan to write 2 chapters per week, then later editing those chapters. My good friend Marie-Christine Razaire deserves a shoutout here as she did the initial edits for the entire book and really helped shape my thinking, as well as my editor and friend Carly Burnham of Insurance Nerds who is the publisher.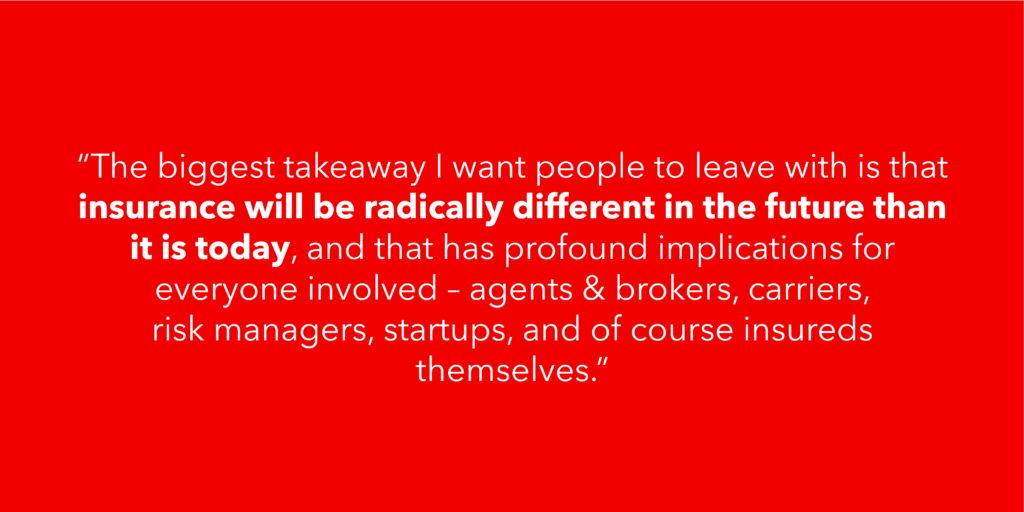 What is the biggest takeaway that you want readers to get from your book?
The biggest takeaway I want people to leave with is that insurance will be radically different in the future than it is today, and that has profound implications for everyone involved – agents & brokers, carriers, risk managers, startups, and of course insureds themselves. How soon is anyone's guess – not as fast as many would like but more imminent than other realize. Here's a thought exercise I give people: get out a blank sheet of paper and a pen and describe the way insurance should work if you were to start from scratch today. (Incidentally, this is really happening in some parts of the world such as Mongolia, Iran, Nigeria and many others.)
Once you are done, compare the ideal insurance world that you described to today's reality. Are they close? For most people, the answer is a resounding NO! Emerging technologies such as the proliferation of cheap sensors streaming data, communication networks and cloud computing to transmit the data and store it, and algorithms and artificial intelligence to make sense of it all should be core to today's insurance experiences. Think about maps – they were relied on for navigation for centuries from ship captains to car drivers, but over the last 10 years have been made mostly irrelevant by GPS. I'm convinced a similar transformation will occur in insurance.
You're also known as The Most Interesting Man in Insurance! How did this title come about?
I'm first going to do a bit of myth busting here – I did not give myself this moniker! I used to be in charge of underwriting catastrophe risks for USAA which included evaluating exposures to hailstorms, hurricanes, wildfires, earthquakes, lava flows and flooding. In this role, I was fortunate enough to have a lot of cool experiences in my job such as chasing hail storms to measure the stones with the Insurance Institute of Business and Home Safety (IBHS). Driving into the dark clouds instead of away from them went against every risk adverse bone in my underwriter's body! I've also been in a helicopter with San Diego Fire and Rescue to learn about their biggest risks, been on the ground following Hurricane Harvey and Irma to see firsthand the devastation from these storms, and even experienced a 6.9 magnitude earthquake on Hawaii's Big Island that led to major lava flows over areas I had just visited in 2018! I've also been interviewed on live TV and been part of a lot of hurricane specials. I tell people I am a boring person but have had interesting experiences BECAUSE of my career in insurance!
What are your tips for those who are currently in the insurance industry and want to reach the educational depth that you have?
I was asked a few months ago by a millennial friend starting out at an insurtech startup whether she should consider pursuing a CPCU designation. For years, I advised many industry professionals to make this investment in their career, but I had to pause and consider whether this was still sound advice if the industry will be radically different in a decade. I finally advised her that, yes, investing in pursuing industry designations is still important because there will always be a demand for people who fundamentally understand our industry, even if they are tasked with disrupting it.
At the same time, it's important to go beyond these traditional routes to gain knowledge. There are so many wonderful podcasts available today as well as books on all aspects of innovation and technology. My book publisher, Insurance Nerds, has a wealth of content on their website including blog posts, podcasts, YouTube videos, books and more. And, of course, you should read my book The End Of Insurance As We Know It if you have not done so already!!! The book is available exclusively on Amazon and has sold thousands copies in 12 countries. If you have read it, please leave a review so that others may discover the book. Finally, I encourage people to connect with me on LinkedIn as I regularly share content that is interesting and relevant.