Kristen Peed has an absolute genuine authenticness about her. She approached our booth at the RIMS Conference this year with a bright smile, making sure that we were happy with the way the conference was going and spent extra time to get to know us despite her busy day. As a member of the Risk and Insurance Management Society's Board of Directors and the Director of Risk Management for CBIZ, Kristen is nothing short of impressive and kind.
She's been in the industry for 15 years and fell in love with the impact that being a risk manager could have. Today, she is most passionate about meeting and mentoring students who are interested in the field. Read on to find out how this powerhouse figure fell into risk management and why she is so adamant about embracing the change that's happening in our industry.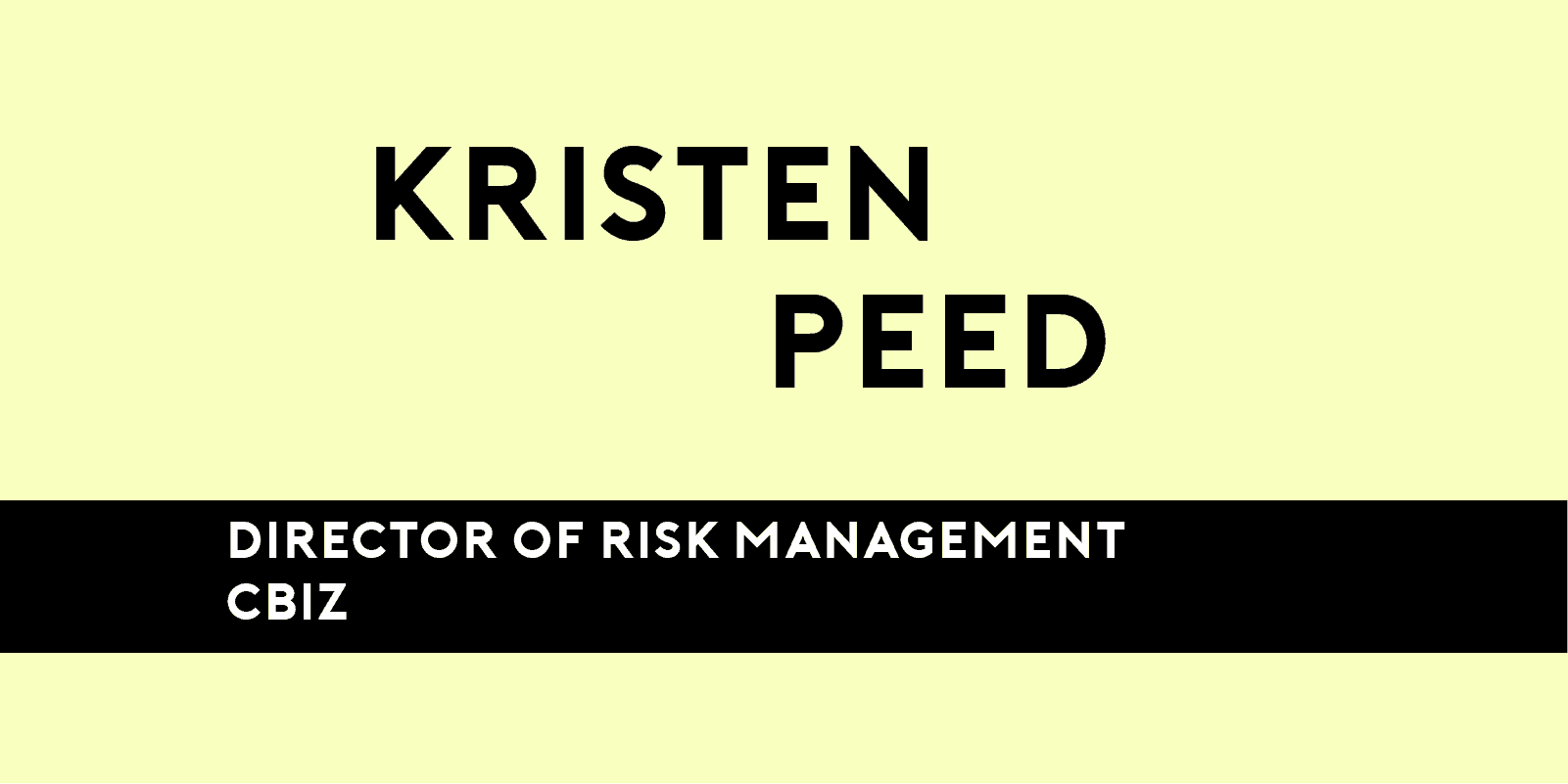 How did you end up in risk management and what was that journey like?
I joined the insurance industry in 2003 as a producer on the broker side and really enjoyed it, but thought that I would do well on the corporate or buy-side implementing changes to help companies with loss mitigation and claims control. I was fortunate in 2011 to be working for a regional broker in Cleveland, OH who had a large publically-traded client that needed assistance in their risk management department.
The Director of Risk Management there really ignited my love of risk management and was so generous with both his time and knowledge and laid the foundation for my future successes. I really embraced the role of risk management and was able to leverage my industry relationships and knowledge to propel me forward through my career at various companies from a Risk Analyst to Director of Corporate Risk over the last 7 years. As I have stepped up to each new opportunity, I have raised my hand to take on additional challenges like business continuity, captive insurance management and crisis communication. Risk management is so much more than insurance and I can honestly say that no day is ever the same and I am seldom bored!
What is it like being part of RIMS and what do you hope to accomplish as Board Director?
I am surrounded by some of the most accomplished people in our industry! It's amazing to be able to have conversations with others who have been in the business for decades and get their insights and past experiences on questions that I have about my own company's risks. I have learned so much since becoming involved at the local level of the Northeast Ohio RIMS chapter and now being on the Global Board of Directors for RIMS is helping me to expand my network even more.
My main focus and passion on the RIMS Board is around students and attracting the next generation into our industry! I serve as the board liaison to our Student Advisory Council and have had the opportunity to meet students from all over the world who are studying risk management and insurance. I want to make sure that I am able to help mentor them and have them understand why I am so passionate about my career. They bring energy and a creative mindset to an industry that has to embrace change to keep up with technology and the changing regulatory environment.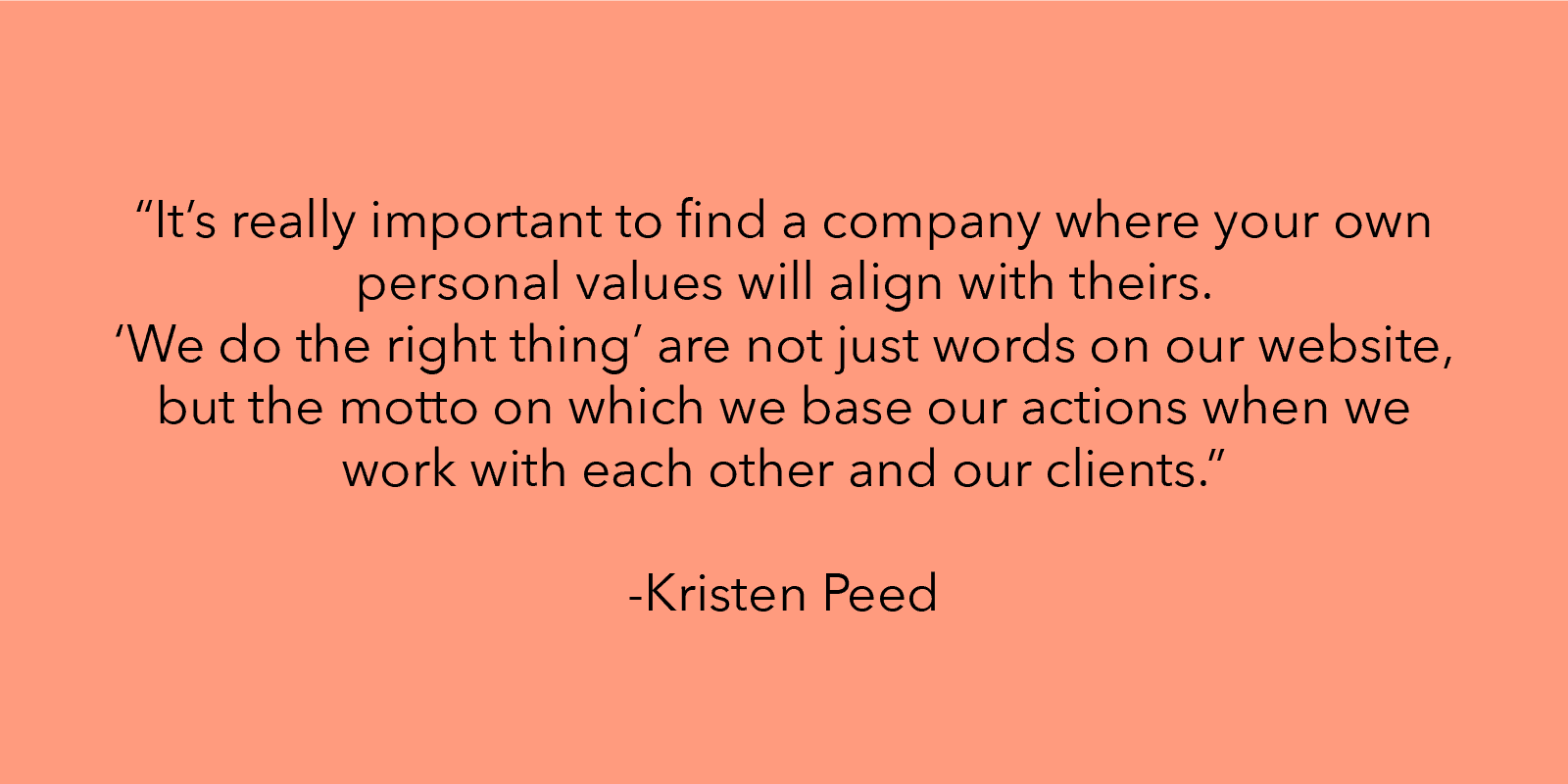 What's the most important lesson you've learned about management and team building as Director of Corporate Risk Management at CBIZ?
The most important thing I have learned here is that open communication and transparency is key. CBIZ is one of the nation's leading providers of professional advisory services, focused on accounting, benefits & insurance, HR and payroll solutions. Since 2013, our market cap has doubled to over $1B and we have acquired 23 new companies. It's exciting to be a part of a company which is growing both in terms of service offerings and territories, but being so diverse means that I have to work with all kinds of business units to really understand the various specialties so that I can communicate the CBIZ story effectively to the insurance carriers.
Our needs are growing and changing as well with regard to risk management and it has given me the opportunity to participate in a number of committees where my industry knowledge and contacts have proved valuable to CBIZ. I am also very lucky to work with executive management that really believes in our mission and core values. I think it's really important to find a company where your own personal values will align with theirs. "We do the right thing" are not just words on our website, but the motto on which we base our actions when we work with each other and our clients. Another one of our core values is "we are One CBIZ". We have to work together in collaborative and creative ways to ensure that we meeting our objectives and goals.
You've been a part of the industry for many years – how have you seen it change and where do you see us headed over the next decade?
I think that Risk Managers need to make sure that their organizations see them more than the person that does the insurance. The role of risk management is elevating at companies and has a role far greater than that of just insurance placement. We are now providers of solutions and find the common ground where we can help drive change and strategy to help the growth of our companies. There was a reputation for years that Risk Managers were the killers of ideas and I have made it my mission to not use the word "no". We need to be more customer-centric in our mindset and understand that the company we work for is our client. As our client's needs evolve, so must our skillsets as well. ERM and SRM are no longer just "buzz" acronyms, but are common vernacular in companies as they look to the upside of risk-taking and these are skills that we need to embrace and enhance.
The evolution of technology and the cyber world has also driven change in all industries. Cyber insurance and claims are always a big topic of discussion at any industry event that I attend. Risk Managers need to make sure that they are staying up to date on the latest trends in information security and engage in conversations with their IT departments to understand how their companies are addressing these cyber issues. I don't think that these issues are going anywhere and we are going to have to continue to be vigilant in our pursuit to help protect our companies.
What's one piece of advice you have for new people joining the industry?
Make sure that you begin networking early! I would not have had all of the opportunities over the last decade without my support system. It's important that you build our own personal board of directors that can help you achieve your career goals. Also make sure that you are helping to contribute to the success of others. That may involve mentoring college students or helping a colleague proof a presentation. The insurance and risk management community are incredibly supportive and I am excited to see where my career takes me over the next decade!