By Tana Daughtrey
You finally did it! You are an attorney. After years of school and hard work, you are eager to get started and prove yourself. You can't wait to make your mark on your chosen profession. Does this sound familiar?
Things start off great. You are energetic and working hard, long hours which you are excited to do, but, over time, this enthusiasm and drive can lead to burnout.
How do I know? Because I burned out. I learned the hard way. That is why I am writing this article. I don't want you to be a victim of what can happen to an attorney without even realizing it's happening.
I survived and thrived as an attorney for many years.  It was later in my career when I was a manager in the Oil & Gas Industry for a Fortune 100 Multinational Company, and I was responsible for several attorneys counseling and advising clients on a variety of legal issues that I began to develop stress-related problems.
That job was stressful requiring long hours, and I also had the added stress of caring for my elderly mother who had dementia. The stress seemed to never end. During the evenings I started having a few glasses of wine to unwind and relax.
I began to struggle with neck and back pain. Foods started causing stomach pain and nightly acid reflux that then turned into more serious gastrointestinal problems. Every day, the stress seemed to increase until it began impacting my ability to practice law for the long hours I had in the past.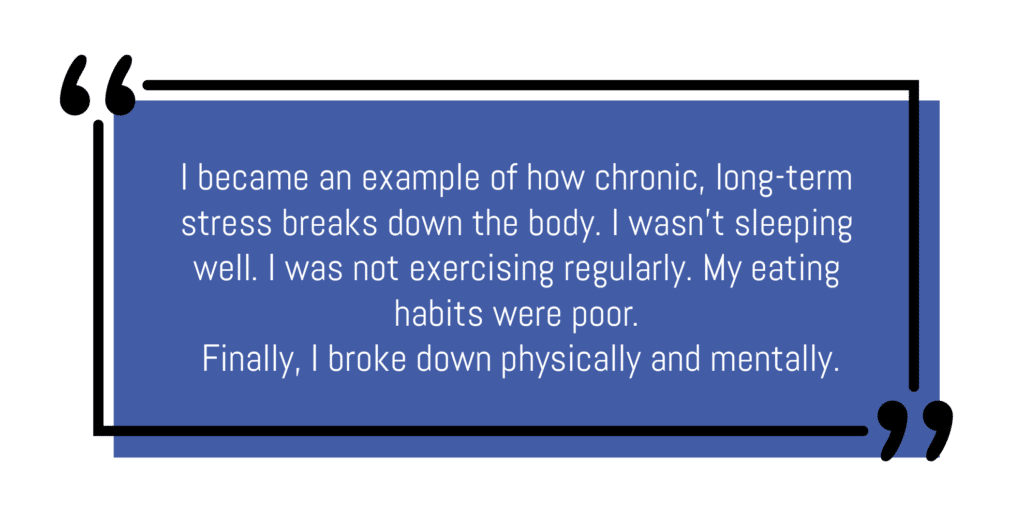 I became an example of how chronic, long-term stress breaks down the body. I wasn't sleeping well. I was not exercising regularly. My eating habits were poor. My life consisted of work, caring for my elderly mother, and collapsing into a restless sleep after several glasses of wine. Finally, I broke down physically and mentally.
I ignored the signs and burned out. Taking lessons from my own experience, I've compiled a list of some of the signs you're on the road to burnout. Don't ignore them! That is the first thing we tend to do. Your life and body are too important to ignore these signs.

You're on the road to burnout if…
You work long hours without regular work breaks to rest your body and your mind.
You don't take vacations regularly or at the end of stressful projects.
You don't set aside time to leave work behind, turn off your computer, and rest your mind.
You don't sleep a continuous 8 to 9 hours nightly.
You ignore physical aches, pains, and illnesses to push on ahead with projects.
You don't exercise 3 or more times a week.
You don't see friends and family regularly.
Your significant other is repeatedly asking you to come home and spend time with the family.
You find you don't have a confidant you feel comfortable talking with about your fears and insecurities.
You drink more than 2 alcoholic drinks daily if you're a man or more than 1 alcoholic drink daily if you're a woman.
It took me a long time, a lot of physical discomfort and mental depression before I realized I had to create a better balance in my life. By that time, I was divorced, without family, without a social life, without a job, and exhausted from my physical issues.
Like most people, I knew what a person needed to do to have a more balanced life. The problem was doing it. Having a work/life balance that makes you happy and creates a healthy lifestyle takes work, commitment, and discipline.
So, what's the solution?
I recommend you address finding a better work/life balance just as you would any major work project. Initially define the scope of the project. Take time to look at your life currently, then imagine your life as you'd like it to be. Once you have a clear image of what you'd like your life to be, start defining your goals. These goals are designed to allow you to attain the life you imagined.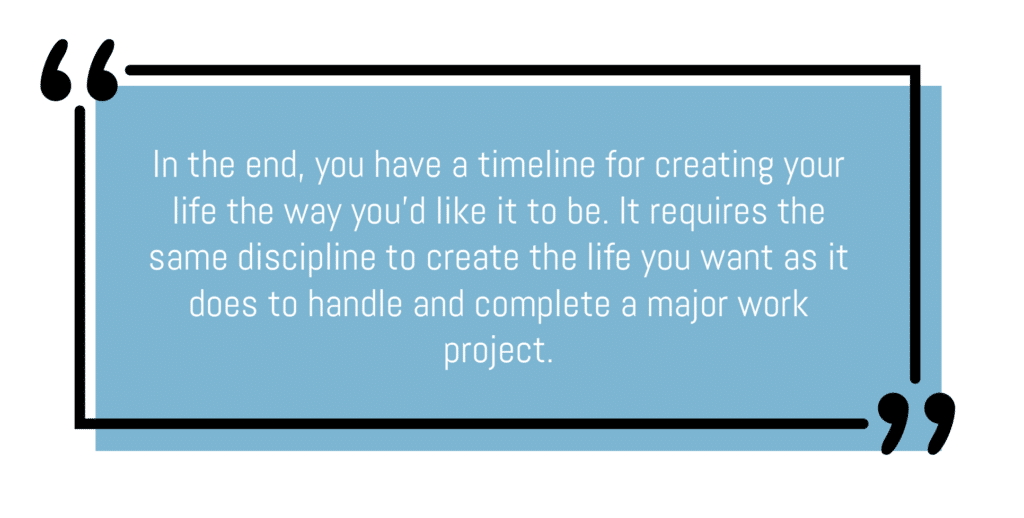 With the goals defined, create the steps needed to attain your goals. In the end, you have a timeline for creating your life the way you'd like it to be. It requires the same discipline to create the life you want as it does to handle and complete a major work project.
I found my way to a happier, healthier, and more satisfying life. You can, too. You are the person responsible for how you live your life. If you're on the road to burnout it's time to make a change. In fact, the time is now.
Download my free book or book a complimentary call with me if you need help reclaiming your life and finding that work/life balance at tanadaughtrey.com.